Distance Education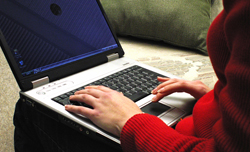 The Faculty Association has been intimately involved with distance education at Suffolk Community College since the beginning.
We have worked hard over the years to bargain contract and policy language that ensures we're offering distance education (DE) courses of high academic quality, keeping in mind the best interests of faculty, students, and the college. Appendix J of our contract, as well as the 2005-2011 memo of agreement, clarify the negotiated terms of agreement for DE courses. This website explains those as well as some of the policies passed by the college's Distance Education Committee.
Distance education refers to instruction which links any SCCC campus or instructional site to one another and/or to remote facilities located at off-campus locations. Distance education (DE) classes include but are not limited to fully online courses, blended courses, distance learning classrooms (interactive video transmission), and/or any combination of these multimedia delivery systems. Note that blended courses are referred to in the contract as hybrid courses.
Use the links above to access information about the contract language and policies and procedures that govern distance education at Suffolk.