Professors on Wheels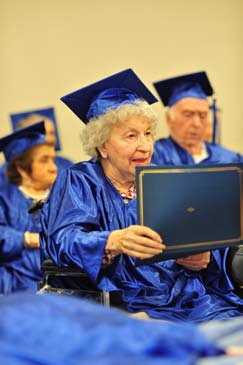 The FA Professors on Wheels program sends volunteers to provide lectures, workshops, and classes at more than fifteen nursing homes, rehabilitation centers, and libraries throughout Suffolk County. Especially for residents in the assisted-living facilities, Professors on Wheels is a great, low impact way for us to serve a much deserving and sometimes neglected part of our larger community.
These educational experiences are typically a half hour to an hour long. We offer classes on subjects as varied as the history of the English language and reporting via YouTube. If you're with an organization seeking one of our classes, the Professors on Wheels pamphlet has a listing of all our offerings.
If you're an SCCC employee who wishes to volunteer for Professors on Wheels, complete the course proposal form and e-mail it to Ray DiSanza (disanzr@sunysuffolk.edu) either as an attachment or pasted into the body of the email. 
It doesn't matter what the subject material is. Classes and activities can spring from the volunteer's area of academic expertise or from any area in which they consider themselves an expert, though many choose to tie their presentations to their current research and projects.
Even though the name is of the program is Professors on Wheels, all are welcome to participate: professors, PAs, specialists, nonclassroom faculty (librarians, counselors), retired faculty and staff, administrators... everyone! 
Many of program's graduates through the years have said they had long given up the notion of attending college, and this fulfilled that lifelong dream. One resident of Island Nursing and Rehab indicated that activities like this make her feel "very lucky to be alive."
This is a great opportunity to get involved and make a difference in our community, especially in the lives of our community's senior population.