Making Strides Against Breast Cancer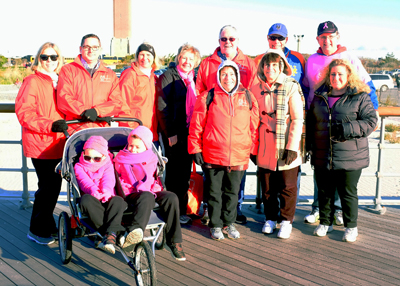 New York State United Teachers (NYSUT) members across New York have long supported the American Cancer Society's Making Strides Against Breast Cancer by raising more than $8.3 million over the last 10 years - more than any corporate sponsor, such as Walmart. In fact, NYSUT is the largest union Multi-site Flagship Sponsor of Making Strides Against Breast Cancer in the United States.
The Faculty Association has supported NYSUT's effort every year. We are one of the many locals that organize a local NYSUT Team. TEAM-FA participates in the Making Strides Jones Beach walk, which usually occurs on a Sunday in October. Faculty, staff and students are encouraged to participate.
The 2013 Making Strides Breast Cancer walk at Jones Beach was on October 20th and it was the 21st Anniversary of the walk. Over 60,000 people participated in the walk and $3.15 million was raised at the event. (See Newsday's article for more information). TEAM-FA fielded a 18 person team and we raised $1,145.
Photos from the 2013 walk can be found on our Photo Album on the FA Facebook Page.
This year's walk will take place on October 19th at 9am. We are meeing at 8am (traffic is bad at 9am). If you are interested in joining us, or if you would like to donate to our team please go to our TEAM FA web site @ http://main.acsevents.org/goto/fascc. For more information, please contact Tim McHeffey(tim@fascc.org) or Lisa Aymong (lisa@fascc.org).