Making Strides Against Breast Cancer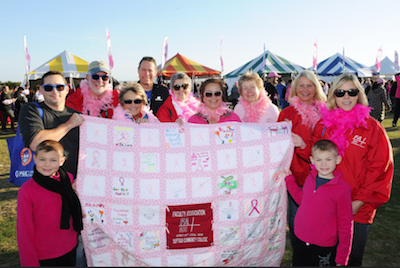 The FA participates in Making Strides Against Breast Cancer every year. We are one of the many locals of NYSUT, which is a flagship sponsor of Making Strides, that organize a local NYSUT team. TEAM FA participates in the Making Strides Jones Beach walk, which usually occurs on a Sunday in October. Faculty, staff, and students are encouraged to participate.
TEAM FA participants not only make the walk at Jones Beach, they conduct fundraising and awareness raising for this worthy cause as well. Annually the team raises a minimum of $1,500 to $2,000, and here are just a few of the articles written about the event: 
To join TEAM FA as a walker or as a donator, please visit our TEAM FA Making Strides webpage. If you choose to walk, please note that we meet at parking field 5 at Jones Beach and arrive before 8 am to beat the considerable traffic (this event garners over 10,000 walkers each year).