| | |
| --- | --- |
| | June 2017 |
Change is coming
Kevin Peterman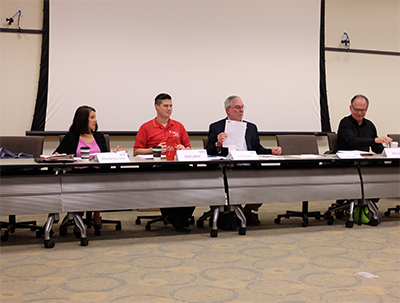 Kevin Peterman, third from left, speaks to the dozen plus attendees at the NYSUT Election District 39 meeting in Albany on June 3. (photo by Dante Morelli)
Yes, change is coming. What that change will be is up to us and the labor movement.

We are starting the election season on a positive note. In a special election on May 23 for State Assembly District 9, a teacher and NYSUT member from West Islip who was the underdog won a decisive victory. NYSUT and other labor and progressive organizations delivered the victory. According to NYSUT President Andy Pallotta, "NYSUT went all in on this race. Our member-to-member work included making over 40,000 phone calls, turning out hundreds of members to door knock, sending direct mail and having thousands of conversations with members living in the district." Final results are below:


| | |
| --- | --- |
| Christine Pellegrino (D-WFP) | 5,590 |
| Tom Gargiulo (R-C) | 4,049 |
| TOTAL VOTES | 9,639 |
It is election season. Office seekers will be walking their districts this month with petitions to gain the required signatures to appear on the November ballot. FA activists will be working with candidates to help them succeed this fall. The FA's Political Action Committee will screen candidates for the Suffolk County Legislature this August and make endorsement recommendations to the EC for approval at its August 31 meeting.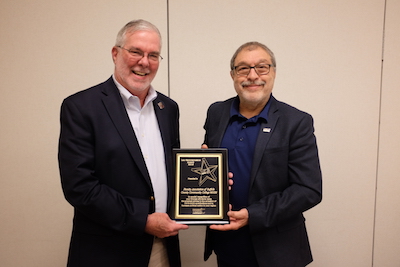 Frank Frisenda, right, statewide VOTE/COPE coordinator for NYSUT, presents Kevin Peterman with an award for the FA's VOTE/COPE efforts. (photo by Dante Morelli)
We'll be joining other labor unions as we walk districts as part of the Long Island Federation of Labor walks in support of our candidates.
In addition we must educate everyone to vote against the Constitutional Convention. We need your help to elect legislators who support education and labor issues and to DEFEAT the call for a Constitutional Convention this November. The fate of unions, fair labor practices and retirement benefits are in play: read Cynthia Eaton's article on the Constitutional Convention for details. Even if it is one labor walk or one phone bank night, please contact the FA to help this fall.
We need to energize, mobilize and engage if we want positive change. If we don't, we will have a very different future.
Change is coming, and we need to make it a change for the good of all!