| | |
| --- | --- |
| | December 2016 |
Got change? It keeps coming
Kevin Peterman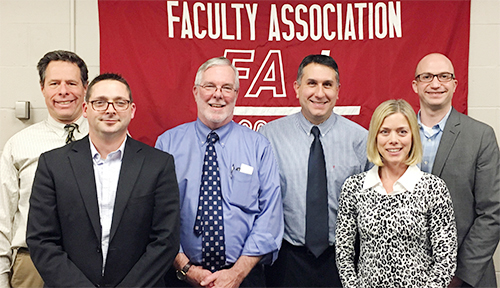 The current slate of FA officers are, from left, Kevin McCoy (Adjunct Coordinator), Sean Tvelia (Executive Vice President), Kevin Peterman (President), Peter DiGregorio (Treasurer), Cynthia Eaton (Secretary) and Dante Morelli (Grievance Officer). (photo by Katelynn DeLuca)
As most of you know, Joyce Gabriele our long serving treasurer, resigned in June and the Executive Council (EC) approved Maureen Arma to serve the remainder of Joyce's term.
Unfortunately, Maureen resigned in early November due to "personal circumstances." We obviously needed a treasurer and we needed one fast. We approached our former grievance officer Pete DiGregorio and asked him if he would consider the position of FA treasurer.
At its November 10 meeting, the EC unanimously approved Pete as FA treasurer through May 31, 2017, in keeping with the FA Constitution and Bylaws.
Pete has been working with Joyce as she trains him on all the ins and outs of the position. She has agreed to work with him next semester (after she retires) to ensure our continued financial stability.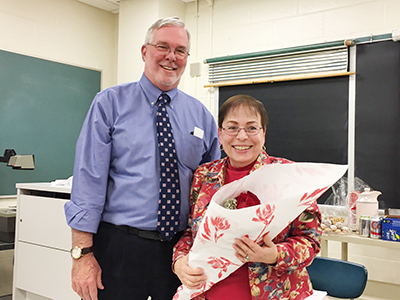 Marie Hanna accepts a gift of flowers as well as a plaque recognizing her years of service to the FA, as she is retiring from SCCC at the end of December. Thank you, Marie, for your service! (photo by Cynthia Eaton)
Marie Hanna, FA secretary, has announced that she is retiring at the end of this semester and has resigned as secretary effective December 30, 2016. At the November meeting, the EC also approved Cynthia Eaton, the FA's current adjunct coordinator, to fill the vacancy of FA secretary through May 31, 2017.
So then we needed to fill the adjunct coordinator vacancy. At its December 15 meeting, the EC approved Kevin McCoy as adjunct coordinator through May 31, 2017, as recommended by the FA officers at the conclusion of their interview process.

In March all six at-large FA officer positions will be up for election by FA members. Ballots will be mailed out in March, tabulated in April and certified by the EC at its May 11 meeting. The new two-year terms begin June 1, 2017.

After the election last month, we sent out an FA email to all faculty entitled "Moving Ahead, Moving Forward." If you missed it, you can read it here.
We need to begin our long-term planning and we want your input. We will begin our mobilization campaign in the spring and look forward to working with all of you to mobilize, educate and engage.

On behalf of the FA's Executive Council we wish you a joyous holiday season and a happy new year!