June 2020
The little contract that could

Dante Morelli
| | |
| --- | --- |
| | |
| | FA President Dante Morelli attended the May 19 meeting of the Suffolk County Legislature to respond to legislators' questions about our proposed contract. Morelli defended our contract as having been negotiated in good faith—with only modest gains to our members—and presented to the legislature in advance of the coronavirus crisis. Morelli appears above in the fourth column, fourth row. |
| | |
As we close out the academic year, I would like to congratulate our members on the incredible job they did in assisting, educating and helping students remotely during the second half of the spring semester. Our members' hard work and creativity really showed as we had to quickly adapt during a pandemic.
While we moved our work online, we awaited a decision on our 2019-22 contract proposal—a slim, conservative contract. There was concern when the original date, April 28, was pushed back to May 19. The contract survived a vote to table it to a later date then, after more than an hour of discussion, it finally passed the Suffolk County Legislature in a vote of 15-3.
This was a heavy lift for our union, and we were successful. We are grateful for the 15 Suffolk County legislators who supported our contract and continue to support the work we perform daily with students. As shown at the bottom of this article, we are asking members to write a quick note of thanks to your legislator, and we've included a sample thank you letter that you're welcome to download and personalize.
With every piece of positive news, it seems some negative news follows, especially in the last few months. A few days after our contract passed, the college saw some opportunities to balance the upcoming year's budget on the new contract. This was not discussed publicly at the May Board of Trustees meeting when the budget was presented.
Three days after the contract passed, the college contacted our leadership team and asked for nearly $1 million dollars in concessions to meet a budget shortfall of $2 million in "personnel cost savings." Despite a commitment to not lay off or furlough employees, the choice was for the FA to come up with savings or "people will be laid off." AME, the Guild and exempts are also being asked to make concessions to fill the $2 million gap.
While we are more than willing to have a conversation on concessions, and will eventually agree on a proposal, we want the discussion and proposals to be equitable for all parties involved.
We have pressed the college repeatedly on administrative bloat which has grown exponentially, and unapologetically, over the last ten years—all while full-time faculty lines remained vacant. After analyzing data obtained from April 19, 2020, Freedom of Information Law requests as well as current FA membership data, the shift in full-time lines from the faculty and AME to the administrative side of the house is stark and undeniable.
---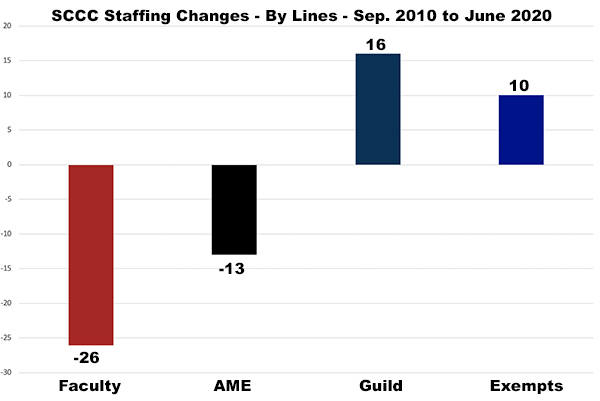 ---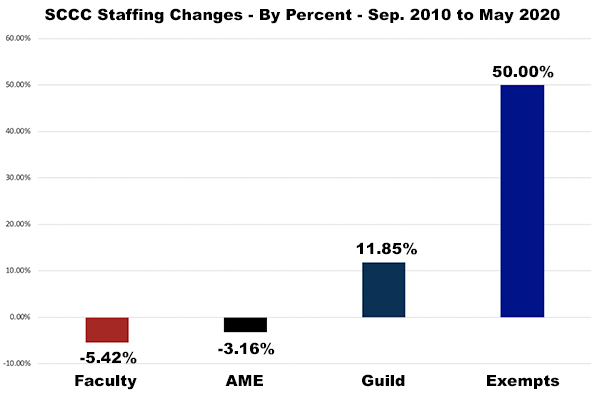 ---
College data gained from Freedom of Information Law requests as well as FA membership data show that the number of administrators at the college has increased significantly in the last ten years, even as the college has claimed insufficient funding to fill full-line faculty lines.
Clearly, there is a correlation between administrative growth and a decline in full-time faculty—which not only hurts our students but also adjuncts who deserve a fair shot at full-time employment opportunities. This gap also shows that the college is getting away from its mission of teaching and learning.
Unlike administration, which has seen significant growth in full-time lines—which are often more expensive than tenure-track lines—the faculty at this college has not. Our union is comprised of 75% adjuncts. And, unlike administration, it's the faculty, FA members, who through their daily direct contact with students have transformed the lives of the 130,000 alumni of this institution.
What does all of this mean for our little contract?
We are currently engaging membership in this process and seeking input. We are also curious as to what happens with fall enrollment as we know the college is budgeting for a 7% decrease. New York State and Suffolk County, which primarily rely on sales tax revenue, are being decimated. There is still some hope that our federal government will pass a stimulus package to assist states and municipalities.
At the macro level, we know that we need a better commitment from all of our elected officials to make higher education a priority in our society. Rather than the founding vision of the state, the county and the students each contributing one third of the college's operating budget costs, SCCC students currently carry the burden of paying for over half of operating costs.
At a micro level, we need a commitment from the college to seriously address the need for administrative reorganization as well as ongoing mismanagement issues and to reprioritize what it means serve our students.
Our contract was negotiated in good faith and in full recognition of the financial state of the institution, and we will continue to defend it. Yet we know that we will have to engage the college with some sort of concession, but not without upholding the integrity and value of the work our members perform for students.
---

THANK YOUR LEGISLATOR!
We ask that members please write a letter to their legislator to express gratitude for supporting our contract. We need our elected officials to continue listening to our voices and supporting the working men and women of SCCC.
We are sharing a sample thank you letter that you're welcome to download and personalize.
Below are the 15 legislators who voted yes on our contract. We are grateful to each and every one of them. Visit your elected representative's webpage, send them a note, follow them on social media, get to know them and make sure they hear our voices.