| | |
| --- | --- |
| | May 2015 |
Grant theater hits a home run: Jason Ramírez
Susan Rubenstein DeMasi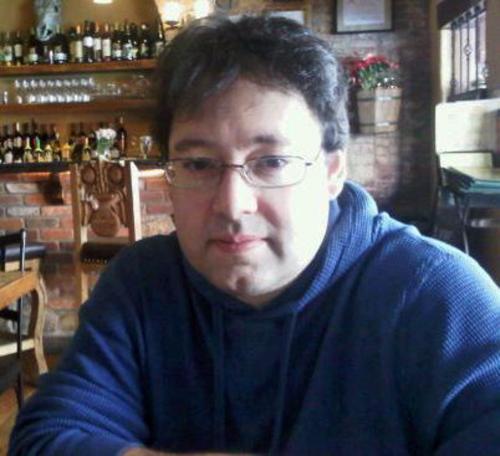 Dr. Jason Ramírez of the Grant campus communication and arts department. (photo courtesy of Jason Ramírez)
When the lights came up on student actors in the Van Nostrand Theatre recently, it was a momentous occasion not just for those on stage but for the entire campus. It marked the first time in recent memory that Grant Campus students presented a fully staged, full-length play. Although he won't take credit for it, theatre professor Jason Ramírez, who joined SCCC's faculty in 2013, was certainly an inspiration.

From a Theatre Club that is now producing plays to enhanced experiences for acting students, Jason's arrival has fostered a new, thriving theatre scene on the campus.

Dr. Ramírez, an Actors' Equity member, is a Bronx-born actor, director, and playwright. Although his original career goal was to be a shortstop for the New York Yankees, he gave that up in favor of drama. Jason began his theatre career as a 20-year old understudy to Matthew Broderick and brings an accomplished professional background to his position as teacher of general theatre and acting.
Before making his entrance here, he played Judas in the national tour of Jesus Christ Superstar and held the distinguished position of Stanislavski Master Teacher at Lincoln Center. (His earliest teaching gig was at his former junior high, when as an 18-year-old, he directed the school's production of Grease.) His dramatic work has been produced at the Mark Taper Forum, Nuyorican Poet's Café, Julia de Burgos Latino Cultural Center, Los Angeles Ampitheatre and the Puerto Rican Traveling Theatre. For years he's performed at the Manhattan Theatre Club and the Public Theater's New York Shakespeare Festival.

One of Jason's teaching goals is to give students a firm grounding in general theatre and acting so they can transfer to the Ammerman Campus' theatre program or move on to another theatre institution. "I take them back to the beginning. We work on Stanislavski in Acting I." While teaching Acting II, he introduced his classes to the theories of Uta Hagen. At the end of the year, much like a conservatory actor training program would do, "we put all of those skills together and presented a year-end performance."

Jason believes that students need supplements to what they learn in more formal classroom settings. To that end, he recently brought Obie award-winning playwright Carmen Rivera to the campus as part of Latino Heritage month. Other ways he has enhanced the theatre vibe was to become advisor to the newly formed Theatre Club and to work with Professor Alyssa Kauffman on a staged reading of The Vagina Monologues. Although he was listed as "director" of that production, he's quick to point out that he did not direct it, but "facilitated" it.
"I don't believe in the term director," he says. "It has a negative connotation because it suggests that there is only one way to do it and it's my way. That's extremely limiting to actors. It should be collaborative. I call myself an actor trainer," he says, adding that "there were no directors up until the 19th century. People don't realize that Shakespeare didn't have directors. The Greeks didn't have directors. That's a modern title."

Getting back to the Theatre Club's presentation of Dog Sees God, Jason acts like a proud papa. "These students, totally of their own desire, put together this play. They said, 'Hey, we're studying acting in class, we're doing readings, but we want a production. We have a stage, we want to do something.' And they ran with that."

When Jason isn't busy with theatrical endeavors (off campus, he's active in the annual International Hispanic Theatre Festival in Miami) he's hard at work on campus and college committees. He's co-chair of the Grant curriculum committee, secretary of the Grant pedagogy committee and a member the college curriculum committee, college-wide professional development day committee, Grant executive committee, STEM building committee, the lively arts committee and others. The father of two grown sons, Jason goes home to his "better half, Kimberly," a professor at City University of New York, and his Yorkshire Terrier, Tico.
Although his dream of being a Yankee shortstop didn't pan out, all of us at SCCC are better for it.