| | |
| --- | --- |
| | February 2017 |
Revised FA budget approved
Peter DiGregorio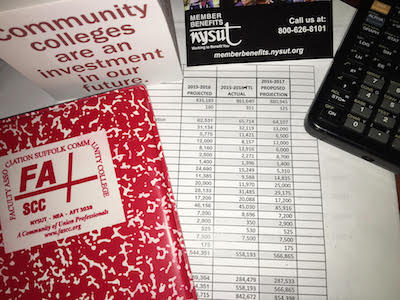 The proposed FA budget must be approved by the EC every year. (photo by Cynthia Eaton)
On February 16, 2017, the Executive Committee approved a revised budget for the 2016-17 academic year. 
The original EC budget approved back in September included a total full-time count that was 22 faculty members over the actual count.  
In addition, enrollment reports indicate that there are approximately 85 fewer sections than there were in the Spring 2016 semester.  This may result in a lower aggregate adjunct total, which could further impact the budget. 
The revised budget is below, accounting for the decrease in both membership dues income and per capita dues paid to NYSUT/AFT.

2015-16
Projected

2015-16 Budgeted

2016-17
Adopted
Budget

2016-17
Revised
Budget

INCOME BY SOURCE

Membership dues

835,189

861,640

880,945

857,304

Interest

160

351

325

325

Total received >

$835,349

$861,991

$881,270

$857,629

EXPENSES BY FUNCTION

Office services - Salary

62,531

65,714

64,107

64,107

Office services - Payroll tax

31,134

32,119

33,090

33,090

Office supplies

5,775

11,421

6,500

6,500

Office capital expense

12,000

8,157

12,000

12,000

Telephone (communication)

8,160

12,916

6,000

6,000

Mail

2,500

2,271

8,700

8,700

Office and Association insurance

1,400

1,396

1,400

1,400

NYSUT/AFT delegate assembly costs

24,690

15,249

5,310

5,310

Workshops and seminar attendance

11,385

9,588

14,835

14,835

Negotiations/legal/
grievance

20,000

11,970

25,000

25,000

Publications and public relations costs

28,133

31,485

29,175

29,175

Membership services

17,200

20,088

17,200

17,200

Stipends: Officer and other

46,156

45,030

45,916

45,916

Administrative expenses

7,200

8,696

7,200

7,200

SCOPE/NYCOSH

2,900

350

2,900

2,900

Insurance expense - NYS disability

525

530

525

525

Audit expenses

7,500

7,500

7,500

7,500

Other disbursements

175

-

175

175

Local expenses subtotal >

$289,364

$284,480

$287,533

$287,533

Per capita dues - NYSUT/AFT

544,351

558,193

566,865

554,882

Total expenses >

833,715

842,672

854,398

842,415

Total received >

835,349

861,991

881,270

857,629

Gross surplus (deficit)

$1,634

$19,318

$26,872

$15,214

Cash status: Net cash at end of year

-

156,617

183,489

171,831

MEMBERSHIP (AS OF JUNE)

Full-time members

482

-

486

464

Adjunct members

1,630

-

1,486

1,486

Total >

2,112

-

1,972

1,950