| | |
| --- | --- |
| | November 2016 |
FA is largest group in attendance at NYSUT Community College Conference
Cynthia Eaton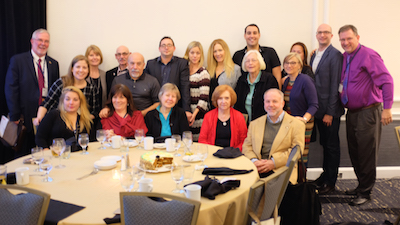 The FA was the largest group in attendance at this year's NYSUT Community College Conference in Saratoga Springs, October 28-30. (photo by Paul Clement of FIT)
Nineteen FA members made the 400+ mile round trip to the Gideon Putnam in Saratoga Springs from October 28-30 for the 38th annual NYSUT Community College Conference.

Members attended workshops on labor history (read first-time attendee Michael Iasilli's reflections) communications, collective bargaining, national issues, member engagement, legal issues, community college finances, adjunct issues and, of course, political action.
As shown below our attendees represent a range of positions at the college, as the FA is committed to encouraging activism from members across the three campuses and from a variety of perspectives.

To learn more about and become more active in the FA, contact Anita in the FA office by email (anita@fascc.org) or phone (631-451-4151) or contact any one of your elected FA officers or Executive Council representatives.
member name
discipline or area
campus
Maureen Arma
Corporate Training
Grant
Lisa Behnke
Academic Advising
Ammerman
Courtney Brewer
Psychology
Ammerman
Patricia Carson
Sociology
collegewide adjunct
Ina Casalli
English
collegewide adjunct
Doug Cody
Chemistry
collegewide adjunct
Joan Cook
Library
collegewide adjunct
Danielle DiMauro
History
collegewide adjunct
Cynthia Eaton
English
Eastern
Michael Iasilli
Writing Center
collegewide adjunct
Tim McHeffey
Business
Eastern
Dante Morelli
Communication
Ammerman
Kim Ng Southard
English
Ammerman
Victoria Pendzick
Media Services
Grant
Kevin Peterman
Library Services
Grant
Priscilla Pratt
Library Services
collegewide adjunct
Bruce Seger
Library
Grant
Sean Tvelia
Physical Sciences
Ammerman
Joan Wozniak
Media Services
Grant