Blackboard Basics
by Cynthia Eaton (FA Secretary and Professor of English)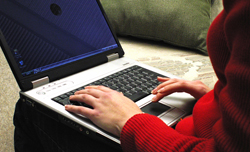 The current public health crisis has positioned us all to develop online solutions to maintain continuity of instruction. We in the FA understand that most of our classroom faculty members didn't sign up for an online class--and neither did our on-campus students. So, first, know that you are not being asked to become an online professor. This is more like you're being asked to build a lifeboat (as a colleague described it), using the available tools, to get our students through the semester.
I recognize this is more challenging in some disciplines and courses. And I know that the college has provided online resources to help faculty and students learn Blackboard. These are great resources: very informative and detailed and thorough! But as I've been doing Blackboard trainings for the past two weeks, I keep hearing faculty say they find those resources a bit overwhelming. They don't want to know all of Blackboard's bells and whistles. They just want the basics to get them through this difficult time.
Thus, I've created these Blackboard Basics files, both for you to reference and for you to edit and share with your students. I welcome you to download the Word files in the student column, edit them to be specific to your courses, and upload them in Blackboard or email them to your students.
Please also contact me if you have any questions at all. I'm happy to help via email or phone or via MS Teams or Zoom (and I can do screensharing so I can see what's happening on your screen). Email me at cynthia@fascc.org, and we'll set up a time to talk.
Let's work together to be as prepared as we possibly can be for Monday, March 30. The calmer we are, the calmer our students will be. They need us more than ever.
Best,
Cynthia
Blackboard Basics for Faculty
Blackboard Basics for Students

* Feel free to download, edit to make specific to your own class, and share with your students!