Online Teaching Advice & Information
by Cynthia Eaton (FA Secretary and Professor of English, Eastern Campus)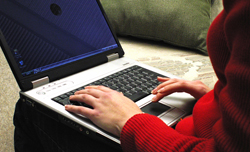 June 2020
This spring I presented two webinars for the National Education Association. On April 24 I discussed my advice about structuring your online course and on May 7 I offered research, information, and advice on helping students improve their literacy and self-regulation skills, which are two critical issues that impact student success in online courses. I share the PowerPoint slides from those webinars below, as they include research and links to tools and websites that FA members might find useful. I've edited the notes field at the bottom of each slide to show some of my comments from each webinar. 
March 2020
When the coronavirus pandemic forced us to move to remote teaching and learning, I spent the two weeks of spring recess helping colleagues learn the basics of Blackboard so they could be as ready as possible for classes to continue on March 30. I pointed them to the college's very good resources for helping faculty and students learn Blackboard. While these are very informative and detailed and thorough, however, I kept hearing faculty say they really just wanted the basics to get them through this difficult time.
Thus, I've created the Blackboard Basics files below, both for you to reference and for you to edit and share with your students. I welcome you to download the Word files in the student column, edit them to be specific to your courses, and upload them in Blackboard or email them to your students. I'm also happy to help you if you have questions about these files or about Blackboard: 
cynthia@fascc.org
.
Best,
Cynthia
Blackboard Basics for Faculty
Blackboard Basics for Students

* Feel free to download, edit to make specific to your own class, and share with your students!