The Faculty Association of Suffolk Community College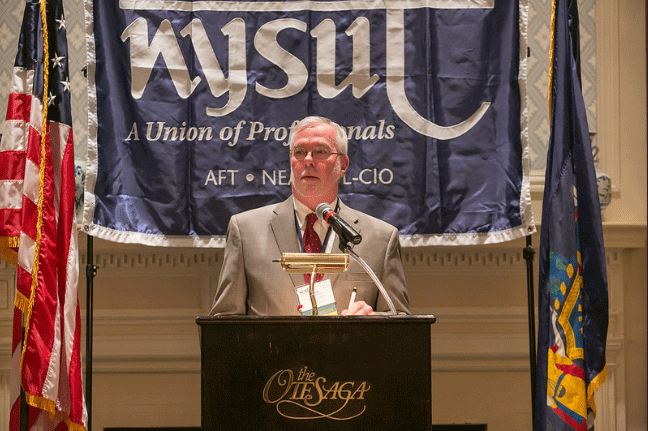 FA President Kevin Peterman delivering welcome remarks at the 2015 Community College Conference.
The Faculty Association believes that the working conditions of our members help enhance the learning conditions and experiences of our students.
For the last 45 years, the FA has focused on creating a community of union professionals that works together to provide professional salaries and working conditions to enable all of us to advance and enhance our professional careers and maintain the tradition of excellent public higher education in Suffolk County, New York.
The Faculty Association was recognized by the Suffolk County Board of Supervisors in 1970 as Unit III, the official bargaining agent for the full-time classroom faculty, librarians, counselors, specialists and professional assistants of Suffolk County Community College. In 1974 the FA also became the bargaining agent for the adjunct faculty at the College.
The FA has a proud tradition of an informed and engaged membership. This award winning website is one of the ways we can communicate with each other. It provides easy access to information about the FA contract provisions and procedures, benefits, pertinent documents and forms as well as FA committees and newsletters.
We hope you find this website useful. If you have any suggestions regarding our website please email me at kevin@fascc.org.
In solidarity,
Kevin Peterman, President